Remember 10 days ago, when
I teased you guys
with talk of a knitwear giveaway? Well, it's finally here!
Inspired by the lovely
Handmade Jane
, who hosted her own giveaway back in May to gift her hand sewn clothing onto appreciative sewists all around the world, I decided to follow suit. We've all been there, made ourselves lovely things that end up not fitting quite right or not matching anything in our wardrobe. They languish in drawers, making us feel guilty for the amount of time and effort that went into them, the money spent on beautiful wool or patterns, only to never see the light of day.
Well, no more I say!
I'm paying forward my Banksia top win and passing on some of my handknit possessions to people I hope will appreciate and use them more than I have. Disclaimer: those items made by me (not all are, though they all are handmade) are made to the best of my ability as an amateur craftsperson. They are not perfect but they are functional. And lets face it, if you win, you're getting it for free so shut up already about the missed cables!
Onto the spoils...
1. Long purple cabled fingerless gloves. These are looooong (approximately 38cm long in fact) and made from acrylic DK. They've been worn a few times and washed. They're a small size for folk with slimmer arms (there's not much stretch in them). Yes, one is slightly longer than the other, what of it?
2.
New Lanark
grey aran wool headband/earwarmers. Widens at the back to go over your ears. Measures 58cm around, 8cm at the thinnest point and 10cm at the widest.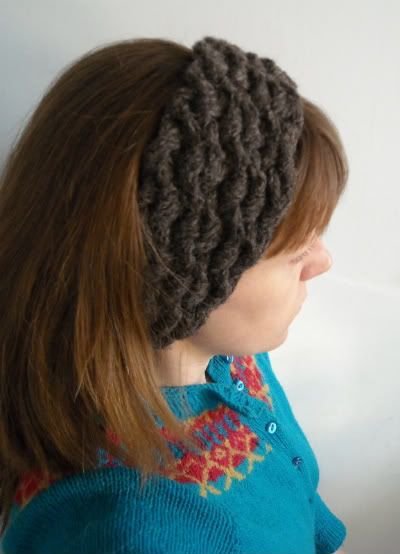 3. Wool bobble hat. Pretty much as it says on the tin. Average size, with some stretch.
4. Acrylic cream beanie. Again, the clue is in the title. Average size, with some stretch.
5. Not-made-by-me fingerless gloves. These are handknit and I would guess in acrylic or manmade fibre. Average size, with some stretch.
6. Tweed gloves with red tips (Andrew calls these 'Penis Gloves'). I made these for myself for this winter and they're too big so I have cold hands. Sad face. But my loss is your gain. Would suit a guy, though comes with the warning that one thumb is slightly smaller than the other.
The rules!
1. Link to my blog somewhere on t'interwebz to enter. You can link to me from your facebook, twitter, instagram, blog...I don't mind. I'm not too proud to say I want to boost my reader stats. Don't hate.
2. Comment on this post to tell me which you want to win! You're welcome to enter for more than one, just link back the appropriate number of times.
3. If your contact details aren't easily found, leave your email in your comment.
4. The giveaway is open worldwide!
I will pick winners using a random number generator on December 6th! Good luck you guys!